outline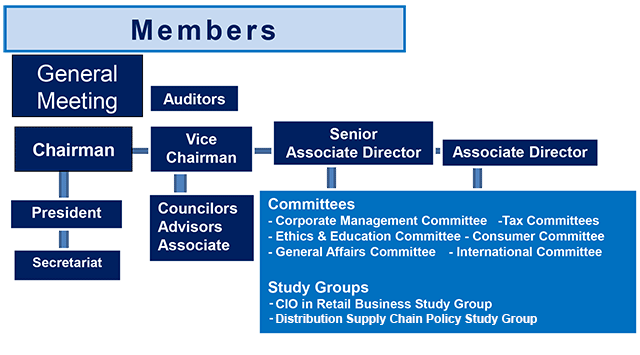 Past Chairmen of the Japan Retailers Association Organization
(Titles while acting as chairman)
1st: Shigeo Nagano (May 1978 – May 1984)


(Chairman, the Japan and Tokyo Chambers of Commerce and Industry)

2nd: Noboru Goto (May 1984 – May 1987)


(Chairman, the Japan and Tokyo Chambers of Commerce and Industry / President, Tokyu Corporation)

3rd: Akira Ichihara (May 1987 – May 1995)


(Chairman, the Japan Department Stores Association / Chairman, Mitsukoshi Ltd.)

4th: Takuya Okada (May 1995 – May 2000)


(Vice President, the Tokyo Chamber of Commerce and Industry / Chairman, Jusco Co.)

5th: Kazumasa Koshiba (May 2000 – May 2004)


(Chairman, the Japan Department Stores Association / President, Isetan Co.)

6th: Taneo Nakamura (May 2004 – May 2011)


(Chairman, the Japan Department Stores Association / President, Mitsukoshi Ltd.)

7th: Kiyoshi Hijikata (May 2011 – May 2015)


(Advisor, the Tokyo Chamber of Commerce and Industry / Senior Adviser, Circle K Sunkus Co.,Ltd)

8th: Nobutsugu Shimizu (May 2015 – May 2019)


(Chairman, the Japan Chain Stores Association / Chairman of the Board and Chief Executive Officer, Life Corporation)

9th: Hirofumi Nomoto (May 2019 – Present)


(Chairman of the Board and Representative Director, Tokyu Corporation)
Directors
As of April 1, 2023
Chairman
| | |
| --- | --- |
| Hirofumi Nomoto | Chairman of the Board and Representative Director, Tokyu Corporation |
Vice Chairmen
| | |
| --- | --- |
| Mitsuki Awano | Chairman, Japan Direct Marketing Association |
| Ryuichi Isaka | CEO, Seven & i Holdings Co.,Ltd. |
| Yukio Izumida | Chairman, Japan Voluntary Chain Association |
| Kenji Onishi | Chairman, the Federation of Specialty Store Association in Japan |
| Yukio Kawano | Chairman, the Japan Supermarket Association |
| Masaki Kondo | Chairman, the Japan Foodservice Association |
| Tomihiro Saegusa | Chairman, Japan Chain Stores Association |
| Satoshi Seino | Chairman, the Japan Council of Shopping Centers |
| Kichitaro Takano | Chairman, the Japan Specialty Store Association |
| Tokutaro Masui | Vice Chairman, the National Supermarket Association of Japan |
| Takeshi Masumoto | Chairman, the Japan Franchise Association |
| Yoshio Murata | Chairman, the Japan Department Stores Association |
Auditors
| | |
| --- | --- |
| Hiroshi Oshima | President, Sembikiya Fruit Co.,Ltd. |
| Kanbei Kokubu | Chairman, President & Representative Director, Kokubu Co.,Ltd. |
| Makoto Hosoda | President, Eitaro Sohonpo Co.,Ltd. |
Executive director
| | |
| --- | --- |
| Takeshi Akagi | Japan Retailers Association |
Activities of committees and study group
The JRA is engaged in activities through 6 committees and2study groups.
The Consumer Committee studies consumer trends and compiles reports on topics such as management strategies for retail industries focusing on the long term. The Ethics & Education Committee studies business continuity plans (BCPs), CSR and other elements of corporate ethics required of retailers and prepares reports.
In addition, the JRA also prepares recommendations and requests related to distribution and the retail industry on improvements for the taxation, employment and distribution system to the government and administrative bodies and sees that they are reflected in policies concerning distribution and retailing.